Click Here for a Direct Download of the .exe file. Or here to download from Google Drive.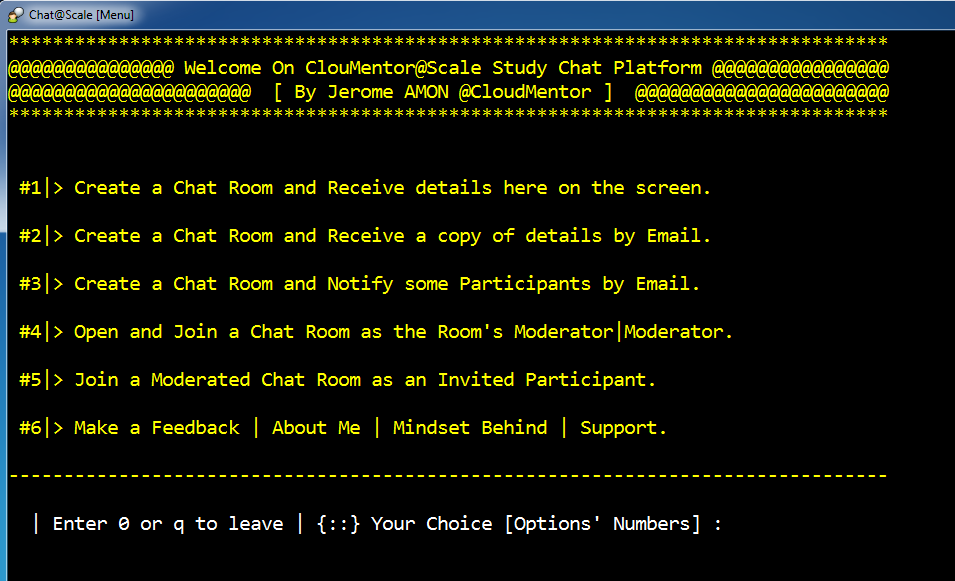 Well, let's see How this software works ?
The console interface has been built for easy use. Once you have downloaded the .exe file, you may put it anywhere you want on your computer or on a usb key. The size of the client is 4.5M. You may even put it on a memory card. There is no installation before launching this piece of software. That makes it portable. Once you launch the client (Chat@Scale.exe), you will have a warning display like below: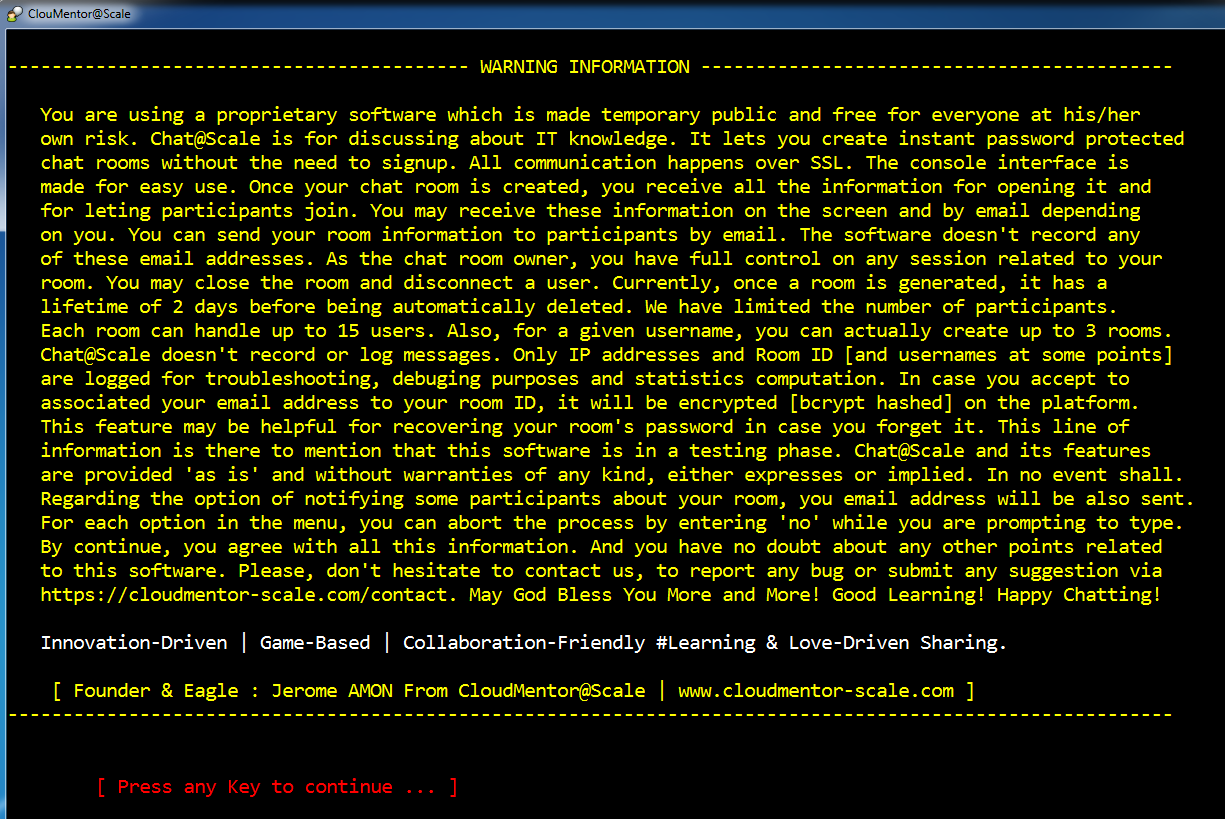 Then press any key [Enter]. You will have now, the menu of the Chat. In this first version of the software, we have 6 options like this :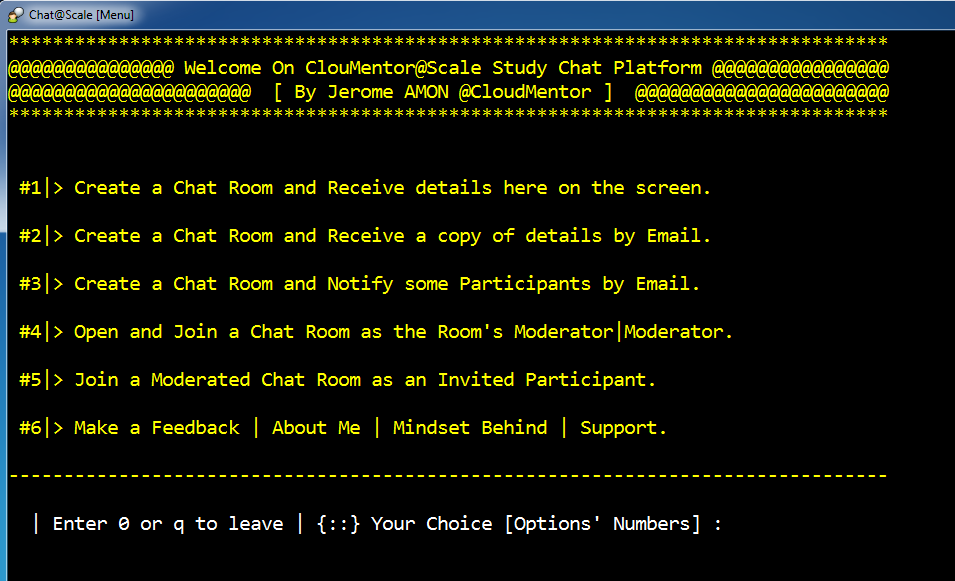 Now let try to show you each option.
❑ Option 1 : Create a Chat Room and View the details
Notice, this option lets you request a new unique Chat Room ID with a password associated to a username you have to provide. One the menu, Press 1 and then Enter to validate your choice. You will be prompted to enter a username. You can choose any username [composed of alphanumeric characters] you want, but we recommend choosing something you can remember for example yourFirstname. In this example, I entered "Jerome AMON".

Once you entered your desired username, press Enter to get the generated Room details on the screen like this.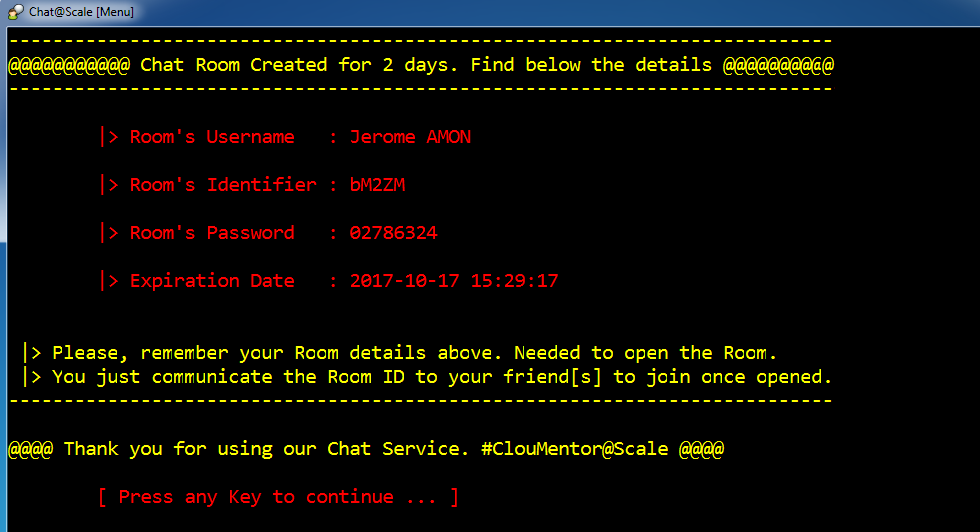 You will need the Room ID, the Password and your username to open the room, so you must keep all the information somewhere. Here on this screenshot, we can see the Room ID: bM2ZM. Only this information must be communicated to your friend(s) you want to chat with. But before, they join (with option 5); you must open your Room with option 4.
❑ Option 2 : Create a Chat Room, View the details and Receive a copy into your email address
This option lets you request a unique Chat Room like option 1, and receive a copy of the Room details into your email address. On the menu, Press 2 and then Enter to validate your choice. Then enter your username. You will be prompted to enter your email address. Here is a screenshot.

After pressing Enter, you will receive the Room details on the screen, and a message telling you if the details has been successfully sent to your email address or not. Finally, the system will ask you if you want authorize the record of your email address (which could help get a new password for your room in case you forget it). If you accept, only the encrypted (bcrypt hash) version will be mapped to you Room. If this operation succeeds you will be notified also. Below is a screenshot for example: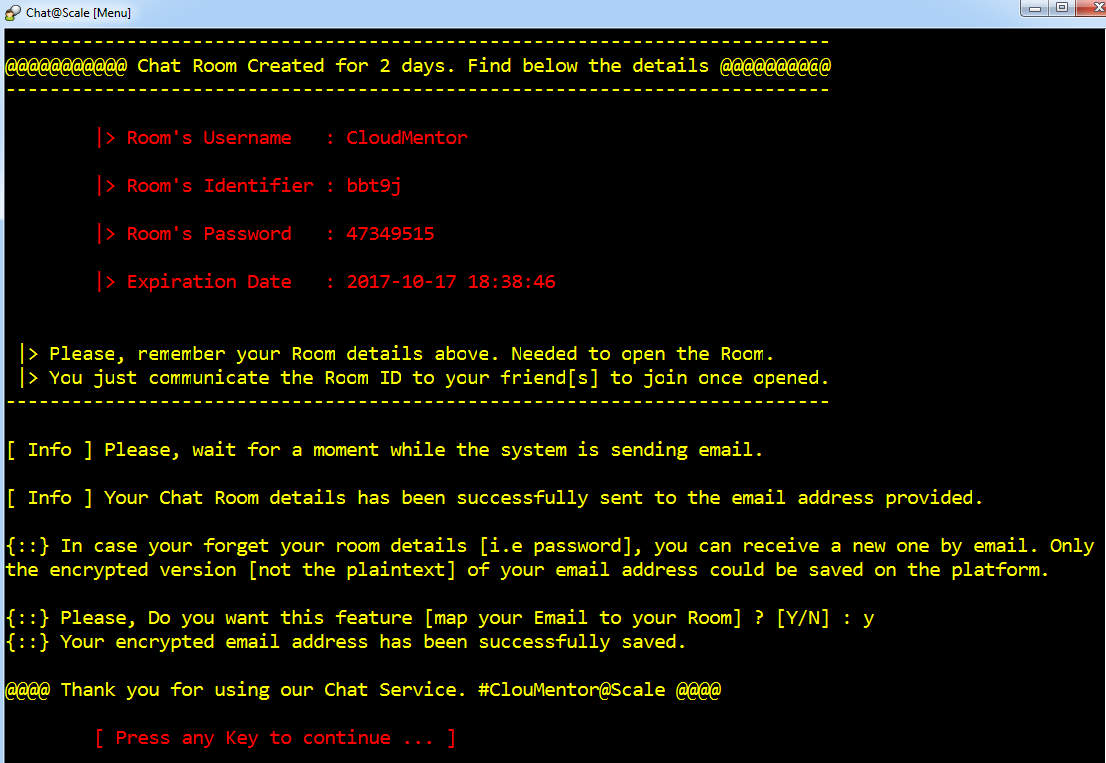 ❑ Option 3 : Create a Chat Room, View the details, Receive a copy into your email address and send Room ID to some friends
This is the third option related to chat room creation. In this case, you will be prompted to enter a username, your email address and a list of participants email address [up to 14 emails]. Email address must be separated by comma. Here is a demo [ I used some random email address] :

Once you validate your input by pressing Enter key, you will have the Room details and the mailing report. Like option 2, the system will ask to keep the encrypted version of your email address for password recovering purpose. Here is a screenshot: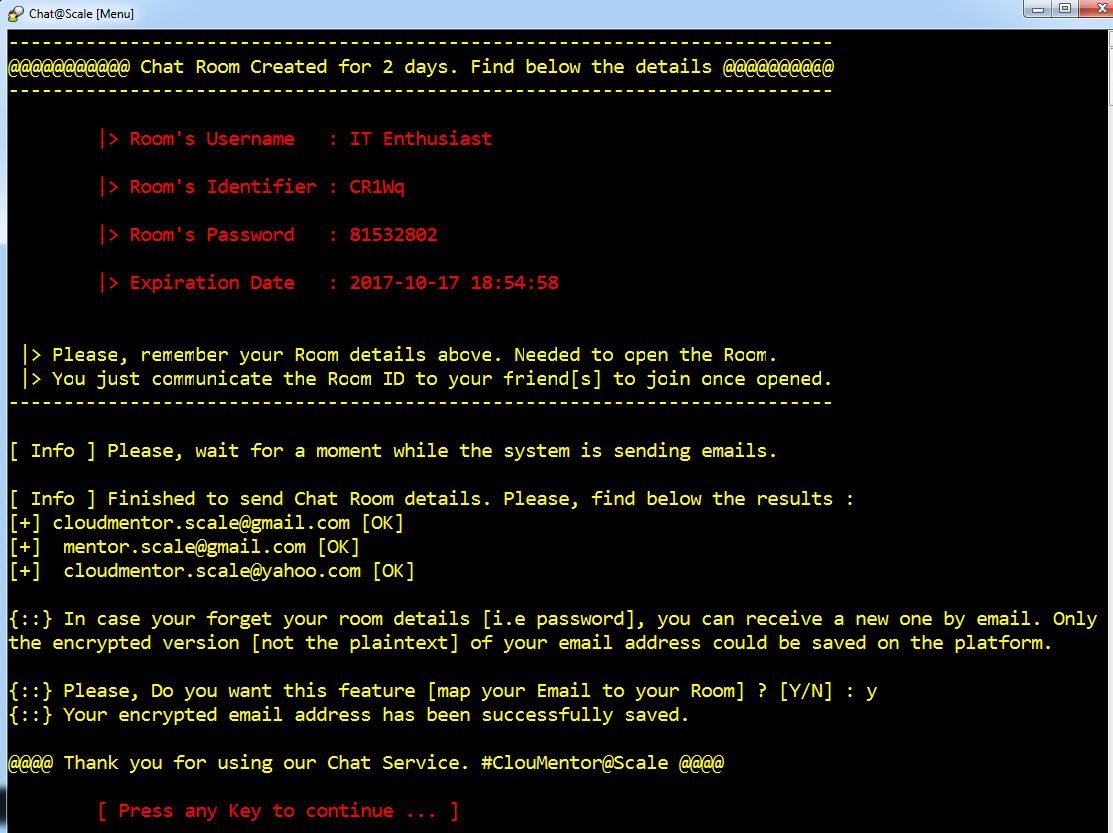 Please, note that your friends (participants) email addresses are neither kept on the system.
❑ Option 4 :Open and Join your Chat Room as the moderator
This option is the only to open a Room. As mentioned above, a Chat Room must be opened before your friends could join. To open it, you must have of course, the Room ID, the password and the associated username used at the creation. Once you provide all the information, press Enter to validate. If the operation succeeds you will be notified. And the system will ask you, if you want to log the chat session message on your computer or not. If you choose yes [y], a file will be created on the folder "Chat@Scale" located in the same place as the .exe file Chat@Scale.exe. The log file is named with the room id and the current datetime. Let's try with the latest example room generated.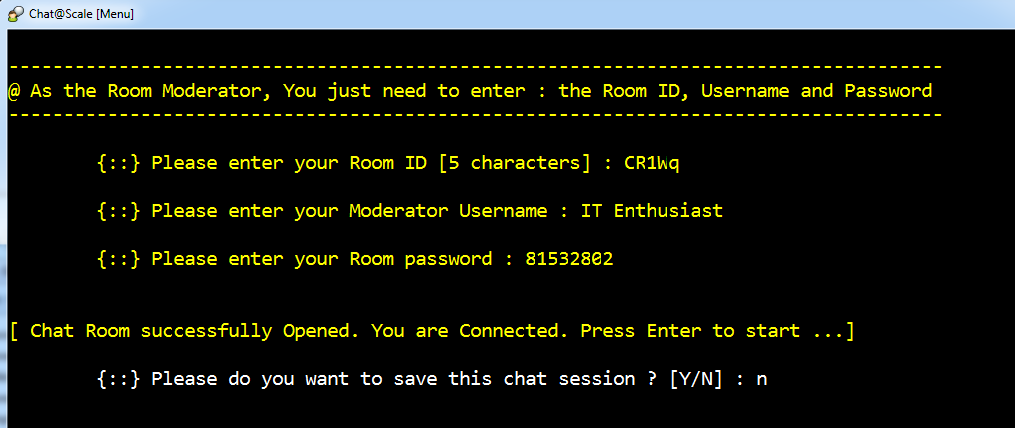 Here is how it looks like once you have opened the Chat Room.

You may enter /help to view some available commands. You may also enter /users to view current active users. Here is a screenshot: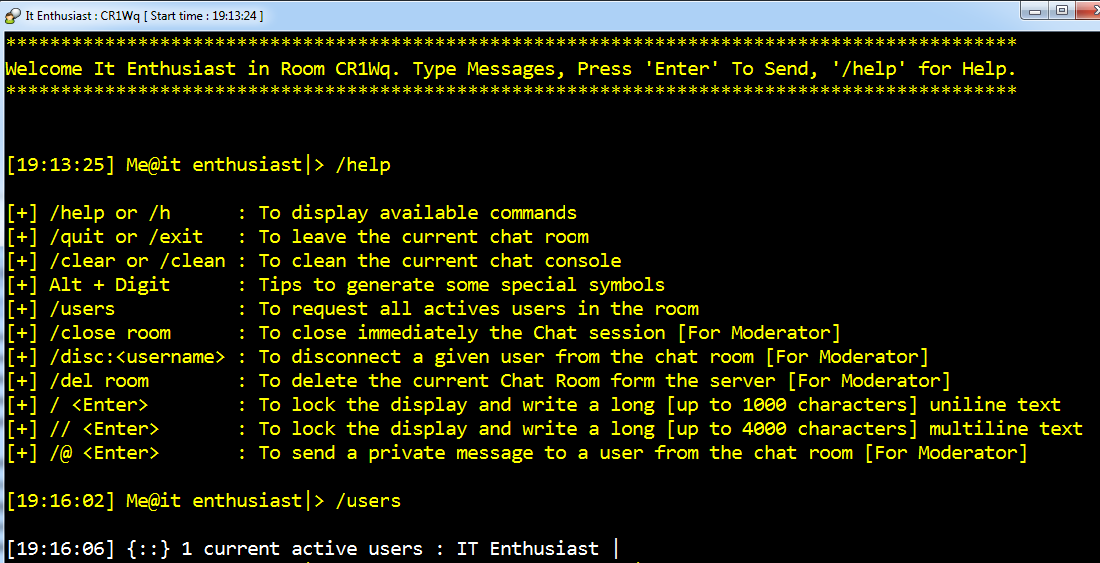 You can send a private message to specific participant in the room. Just enter /@ and press Enter. The system will ask you the recipient username and the system will ask you write your message.
You can disconnect a specific participant, because you are the room owner. Just enter /disc: ParticipantUsername. The participant will be silently disconnected from the room.
As the room moderator, you have the right to anticipate the deletion of the Room from the database. Normally, a new generated room will be removed into 2 days. But, you can perform /del room command to delete it immediately.
To leave the room, you can use /quit or /exit. As the room owner/moderator, once you leave, a notification will be sent to all participants telling them the room will be closed in 2 minutes, thus to let everyone leave normally. Once the two minutes is reached, the system will close the Room.
Another option dedicated to the room owner for leaving is /close room. This option disconnects immediately everyone in the Room and close the Room.
Sometimes, while you are typing a message, you may receive some messages, and this can interfere into your writing. To avoid this, you can use these two options :
❑ First, you can type the symbol slash ( / ) and Press Enter to move into a non-displaying mode. In fact, you will still receive messages but the software will not display them until you finish to write your message and press Enter (for sending).
❑ Second and last, you can use double slash ( // ). As the previous, you will enter in a non-displaying mode. But here, you can write multiline messages. For sending your message, you must go to a new line and Press Crtl + Z (these two keys at the same times) and then Press Enter.
❑ Option 5 : Join a Chat Room as an invited participant
This is the only option to join an already opened chat room as a participant. You have to provide the Room ID to join and a username of your choice. In case, there is a conflict of username (your provided username is already in use in the room), you will be notified and you will have a small interval of 3 minutes to enter a new one, before the system abort the joining process. Below is a screenshot to join our previous opened room. Also, the system gives you the possibility to save the messages on a file to your computer. [ folder "Chat@Scale"].

Once you make your choice of saving or not the chat message, and pressing Enter, you have a screen like this.

Any action regarding Option 6 could be done on this web site. You may use the contact form to reach me, for support or bug reporting or giving a feedback or make a donation or discuss or request a customized version of this software[based on text color or prompt display]
I hope this small guide will help you use this small amazing platform for discussing with your studies friends. In the next version, I will add more and nice features. You may subscribe to this website in order to be informed first about this future event.
You may be interested to try NetChallenger@Scale for free with this trial account : {Username} : cloudmentor.scale | {Password} : cloudmentor.scale
Thanks,
♥ Like Tags:[Chat@Scale|Software|NetChallenger@Scale] Go To Posts >> Retour Aux Articles >>